About Me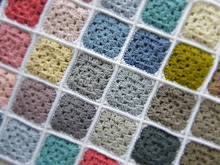 United Kingdom
Hi there & welcome to Annie's Place. A place inspired by and named after my late Grandmother Annie. Somewhere I can be creative, and share my love for all things handmade. I like nothing better than sitting with hook & yarn, crafting something home spun & completely unique, or rustling up some yummy baked goodies. I live in a town with a beautiful embankment, situated on the River Great Ouse. You may know me as CosyKitty on Ravelry. Why not stop a while.....?!!
View my complete profile
Thursday 16 February 2017
Thursday 2 February 2017
I don't have much of a blog voice at the moment. Things continue to be quite fraught surrounding Mum's health and I don't really have the time or energy to dedicate to this space. Mum is my priority and her well-being is of paramount importance. Her happiness is where I focus my efforts now. Any little thing I can do to help her day-to-day be a bit brighter is a blessing to me.
However, I do love this place and will continue to bob in and out when I can. I don't really want to lose the connection I've built up with all of you, so I do hope you still say hello from time to time??!!
I thought I'd take some snap shots of what keeps me in a happy place when I take 5 minutes out to be kind to myself. I've learnt this is so essential when dealing with the daily stresses of caring for a loved one who has deteriorating health.
Home is my happy place and I like to surround myself with what I consider happy things. Colourful accents that punctuate the muted tones in my living space help me feel warm and cosy. Hygge you might say. Crochet is of course my ultimate escape. When I feel like I need to relax and recharge I just grab my hook and yarn and snuggle up on the sofa.
I'm hugely addicted to Galaxy Instant Hot Chocolate right now. It's a daily ritual in fact. I love my dose of hot choccy with a frothy head of cream and marshmallows. So yummy.
Those Raine & Humble Kitchen textiles you see pictured up there were a recent purchase. My parents always find it difficult to buy for me at Christmas time so I usually get some vouchers. That way I can treat myself to things I really want, and I really wanted those gorgeous tea towels and oven gloves. You can't beat a bit of retail therapy......
I joined a choir late last year and have found such joy and comfort from being involved. It's been nice to dust off the old vocal chords, and be embraced by a lovely bunch of like minded souls.
If any of you lovely readers are in a similar boat caring for someone with chronic health problems, I'd love to know what you do to create your happy place...xxxx